The Bahamas—A Geographical Overview
The Bahamas is a sovereign country located in the Atlantic Ocean. It consists of about 2000 cays and 700 islands. Now, that's a lot of cays and islands for a person to explore! Nevertheless, there are some prominent cays and islands that are frequently visited by tourists from across the world.  cay is a small, low island largely made of sand or coral while island is a contiguous area of land, smaller than a continent, totally surrounded by water.
Cay is a smaller version of an island usually a small place surrounded by water, while an island is relatively larger piece of land also surrounded by waters from all directions.
Featured Cays & Islands of the Bahamas
Some of the most prominent cays of Bahamas are as follows: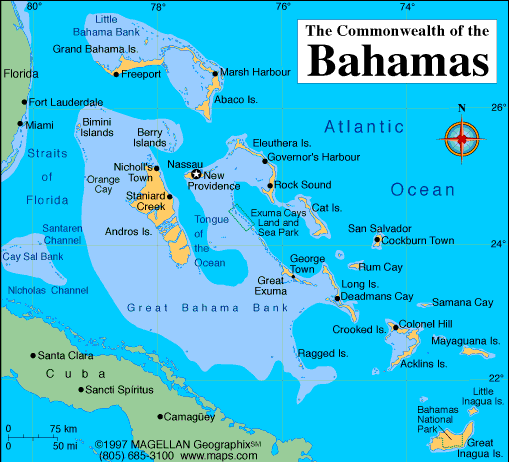 Map featuring the cays of the Bahamas
Cays
Water Cays
Cross Cays
Fish Cays
Pensacola Cays
Joe Downer Cays
Green Turtle Cay
Great Guana Cay
Man of War Cay
Snake Cay
Elbow Cay
Gorda Cay
Some of the most prominent islands of Bahamas are as follows:


Map featuring the islands of the Bahamas
Islands
The Abacos
Acklins
Andros Island
Bimini
Cat Island
Crooked Island
Eleuthera
The Exumas
Grand Bahama
Great Inagua
Long Island
Sailing in the Bahamas
Something that sums up as an integral part of the vacations in the Bahamas is sailing across the beautiful cays and islands.
Now, some of us who are prone to sea sickness may not find sailing the most enjoyable experience.  Well, that's the last thing that must stop you from sailing in the Bahamas as there are many short boat trips that you can go for to escape the sea sickness problem. 
Now, before you venture into a full-fledged boating trip in the Bahamas you might want to consider the options you would have with this respect. There are different types of boating trips you can opt for. You can either sail in a Crewed Yacht Charter in case you do not own a boat or you could sail on a personally owned boat if you posses excellent sailing skills.         
The weather in the Bahamas remains conducive for sailing throughout the year making it a brilliant holiday destination.
Marinas in the Bahamas
Marina is a small harbor where small boats such as Yachts receive supplies before it leaves for its voyage. The only difference between a Marina and a port is that unlike the Marina, a port caters to the requirements of larger ships.
Some of the popular Marinas in Bahamas are:
Marinas On Nassau/Paradise Island
Marinas On Grand Bahama Island
Marinas On The Abacos
Marinas On Andros
Marinas On The Berry Islands
Marinas On Bimini
Marinas On Cat Island
Marinas On Eleuthera & Harbour Island
Marinas On The Exumas
Marinas On Inagua
Marinas On Long Island
Marinas On Rum Cay
Marinas On San Salvador
Your journey to the Bahamas would definitely be an experience that you will cherish all your life. The crystal clear waters, colorful marine life, beautiful boats and friendly locals are something that would make you come back to the Bahamas over and over again!
We have many More Atlantis, Paradise Island Information, Travel Review and Attractions Articles Now Available.